Welcome to Spanish Fly Media HQ Studios in Brooklyn, NYC. We are a diverse group of professionals specializing in recording, mixing and mastering. We are a one-stop shop for everything from recording music to video production, & post production, commercial voice overs, film scoring, etc.
Our studio, located in the heart of Greenpoint, Brooklyn, NY, is designed for flexibility, comfort & creativity. From our comfortable 50 sq. ft. mic booth with comfortable leather seating to our 216 sq. ft. control room for monitoring & referencing your recordings.
To book studio time, click on the button below or email us with your project details at booking@spanishflymedia.nyc or call (929) 266-SFLY [7359] for more information.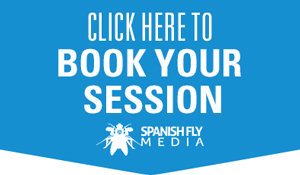 Studio Time Booking Info
RECORDING RATES* Whether it's a single, EP or full album, we can record your project from start to finish. Included in the rate are basic effects & light gain staging [mix-down of levels]. We have hourly and block rates [includes only a basic mix-down/gain staging] and your bounced reference [MP3/WAV] and Pro Tools session (optional) saved onto a your flash drive or sent via WeTransfer.
• $120 [2 hour min at $60/hr]
• 5 Hours: $250
• 10 hours: $500
• All sessions booked require a 50% deposit.
• Deposits are only refunded if client cancels at least 24 hours before session start time.
• We accept payment through credit card, cash, CashApp & Venmo.
• No files or media will be released until the entire bill is paid.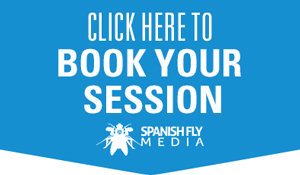 MIXING SERVICES/SESSIONS
If you have recorded your session outside of SFM, we can finish what was started. Just bring us your Pro Tools sessions or WAV stems and let us do the rest.
• Starting at $130/song
• Full Project Mix PACKAGE (Album, Mixtape, etc.) starting at $120 per track [based on a minimum 5 track project].
For a more accurate price please email booking@spanishflymedia.nyc or call us at (929) 266-SFLY [7359] to give us more details about your project.
NEED TO MASTER YOUR PROJECT? CLICK HERE!
Below are samples of our Recording, Mixing work:
(We recommend listening with headphones or speakers)
Email booking@spanishflymedia.nyc or call (929) 266-SFLY [7359] to discuss your project.