You send us your tracks and we mix them! That simple. We start with a conversation about your song or project before we start. We like to find out what your vision is for the project. For information on how to send us your files, check our
MIX FAQ
section. 
Get your mixed by our top mixing engineers with over 20 years experience. We have recorded and engineered clients such as A.G. of D.I.T.C., Pudgee Tha Phat Bastard, VVS Verbal [of Bucktown USA], Shadow the Great, OsoDope & Kidaff of Loaf Muzik and many more!
What We Do
Before any technical work starts, we want to get to know you and your project. The second step in our process is a meeting [phone/zoom and when possible, in-person] between you, your team and our team. We want understand your goals and plans for the music.
From adding or fixing autotune, aligning vocals to more complex drum and vocal editing, we will go the extra mile to clean and polish up your project!
If you are looking re-recording mixing for your feature films, web series and short films, check out our POST-PRODUCTION AUDIO & SOUND DESIGN section.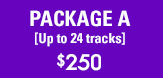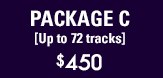 What's included in the mix package?
Of course every song is different, some mixes might not be necessary, or you may have other requirements. Feel free to discuss these needs with us when booking your mix, so we can arrange to deliver any additional mixes you may need.
Each mix package consists of the following:
Main mix, Instrumental, A capella, and Performance track (Main mix without lead vocals)
Need an additional clean version? We'll do those too!
Clean | Add +$30
How can I avoid missing files when I send my Pro Tools Session?
The following is a fool-proof method for making sure all files are included before you send us your session for mixing.
In Pro Tools, under the File menu, select "Save Copy In…"
In the next window, in the bottom section labeled "Items To Copy", check the box next to "Audio Files." Click OK.
In the next window, select a location for Pro Tools to save the new session folder. It doesn't matter where you put it, just make sure it's somewhere that will be easy to find (the Desktop is fine, if you want).
Click Save, and Pro Tools will copy all the session files and create a copy of the session at the new location.
Close the session and/or quit Pro Tools.
Send this new folder, which should contain a new Pro Tools session and Audio Files folder, using whatever file transfer method you prefer.
Essentially what this does is copy all the audio files, no matter where they are, into a brand new session folder.
How should I prepare my files for uploading?
If you are using another DAW, such as Logic, Cubase, etc. then you will need to bounce out your individual tracks as WAV or AIFF files. For music projects, we prefer 24 bit, 44.1Khz WAV files, for film re-recording mixes, please bounce at 48Khz.
Consult your user documentation for your DAW for specific instructions for bouncing tracks.
When you bounce your tracks, please bring the faders to unity gain (0). If your faders are very low, the resulting bounced files will also have a very low volume. Also, please remove any effects such as reverbs or delays. The only exception to this is if it is an effect that is an integral part of the sound (for example a sweeping filter on a synth). When in question, just bounce two copies of the sound, one with the effect and one without.
Most importantly, make sure each audio file is bounced from the beginning of the session, even if that means there is blank space. This way, everything will line up correctly when I import the files into Pro Tools.
If you bounce your WAV files from Logic, Cubase, or any other DAW, you might want to convert stereo files to mono whenever they contain mono sounds. We recommend using StereoMonoizer before sending the files. This will save time and bandwidth in the transfer, and make sure all the files are in the correct format
How can I send you my session files?
You can send us your files using this UPLOAD LINK. You can use this to easily send us your project files via web browser. We recommend compressing the files into a single zip file. Or if you prefer, you can use any other file transfer service that you are comfortable with.
How many revisions do I get?
We understand that a mix often takes several touch-ups. You get up to 10 revisions, although usually after 2-3 you should be 100% happy with your mix. If not, we will work with you to get it right!
Once you approve the mix and the final mixes are printed and the session is backed up, the project is completed. After that, if you discover anything that you want to change or revise, this is charged at a nominal hourly rate.
How long will it take to mix my project?
Every project has a lot of variables, such as number of songs, complexity of each mix, and many others. Also, our workload and schedule varies greatly, but on average, for one song, sometimes it may be a 3 to 4 day turnaround time, at other times it might take 7-10 days due to backlog of other work.
We will discuss your deadline when you book the mix, and if you need it quicker, we can most likely accommodate you, but please let us know up front.
I Like gear, what gear do you use?
Software [DAWs]: ProTools [current version], LogicPro, FL Studio
Monitors: Yamaha HS7, Mackie CR8, 2 x Reftone LD-3 Cubes.
Plug-Ins: UAD Unison™ technology, Waves Plugin Suite, Izotope Ozone 9 Pro, Maschine 2+, MPC Beats
Hardware: UAD Apollo 8 Quad, M-Audio M-Track Eight, DBX 266S Compressor/Gate, ART Pro VLA II – Analog Tube Compressor.